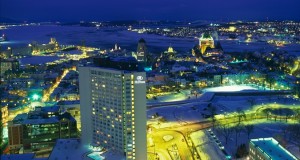 ERDI Spring 2019
Thursday, April 3rd to Friday, April 6th, 2019
Hilton Quebec (Website)
1100 Boulevard René-Lévesque E,
Ville de Québec, QC G1R 4P3
Phone: (418) 647-2411
Fax: (418) 647-6488
Have fun in old Quebec City.
Hilton Quebec City hotel is the perfect base for exploring the heritage and charm of North America's oldest city. A few blocks from Old Town, our conveniently located property is in the perfect spot to take in the multitude of festivals that come to Quebec or host an event of your own on the 23rd floor and enjoy breathtaking views of the city. Relax by the pool, or enjoy one of our renowned onsite restaurants to enjoy all that Quebec has to offer.
It is a 20 minute drive from Jean Lesage International Airport and a 5 minute drive from the Central Bus and Train Station. Connected to Québec's Convention Centre by an indoor pathway and located across the street from the Old City, the Hilton Québec is walking distance to all major tourist attractions and festivals.