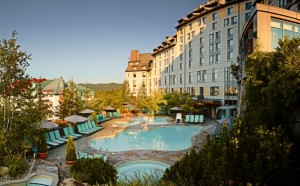 ERDI Fall 2017
Wednesday, October 11th to Saturday, October 14th, 2017
Fairmont Tremblant (Website)
3045 Chemin de la Chapelle
Mont-Tremblant, Québec
J8E 1E1
Phone: (819) 681-7000
Fax: (819) 681 7099
Experience the ultimate in comfort and perfect location in Mont-Tremblant, Québec.
Nestled in the heart of a scenic village at the foot of the mountain, Fairmont Tremblant is the only ''ski-in/ski-out'' resort of the region, offering easy access to ski tracks or hiking trails.
Opened in February 1997, Fairmont Tremblant is located in the magnificent Laurentian region of Quebec. The concept for Fairmont Tremblant hotel originated with the vision of a modern chateau situated in harmony with its natural surroundings and the colorful pedestrian village. The hotel features modern conveniences and a warm decor style that reflects the mountain life. Architecturally, the hotel is inspired by 19th-century Quebec seigneury and grand Provencal-style residences dominated the merchant squares overlooking the outskirts of the village.
Fairmont Tremblant boats celebrated restaurants, and a charming terrace open during the summer season. All of its 314 spacious guest rooms come appointed with high-end amenities and many offer stunning views over the majestic Mont-Tremblant or Tremblant Lake.
Mont-Tremblant is a prime destination for outdoor adventures and offers an abundance of activities including alpine skiing, hiking, mountain biking, river rafting, snowmobiling, zip-lining and much more! No less than five signature golf courses are just minutes away from the hotel. Fairmont Tremblant hotel truly puts you in the middle of all the fun, from the lively street life of the pedestrian village to the Laurentian playground recognized as Quebec's largest national park!
Treat yourself to a stay at the Fairmont Tremblant in beautiful Mont-Tremblant, Quebec!