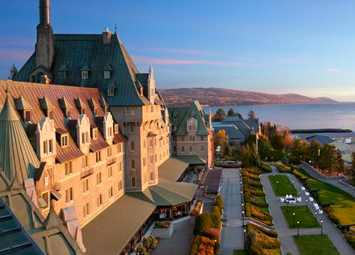 ERDI Fall 2015
Wednesday, October 14th to Saturday, October 17th, 2015
Fairmont Le Manoir Richelieu (Website)
181 Rue Richelieu 
La Malbaie, Quebec
G5A 1X7 
Phone: (418) 665-3703
Fax: (418) 665 8131 
Enjoy the quiet charm of the countryside, blended with the sophistication of a world-class resort.
The Fairmont Le Manoir Richelieu welcomes its guests to experience unique gastronomy, spectacular views and an abundance of activities available in the picturesque region of Charlevoix. Located only an hour and fifteen minute drive from Quebec City, nestled between mountains, forest and the scenic village of La Malbaie, its property, offering 405 rooms and 4 restaurants is the ideal retreat whether you are in need of a peaceful getaway or an active expedition. Le Manoir Richelieu's mission is to make you feel at home.
Winter activities at Fairmont Le Manoir Richelieu include: snowmobile, dog sledding, snowshoeing, cross-country skiing, as well as skiing in one of the nearby ski resorts, Le Massif, or Mont Grand-Fonds. During the summer season, countless options are also available to you: whale watching, 27-holes world class golf course, mini golf, tennis, outdoor pools and hiking, to name a few! The possibilities are endless at Fairmont Le Manoir Richelieu, and our concierge will be delighted to assist you with any request you may have concerning the area activities, such as the Astronomical Observatory of Charlevoix, the Hautes-Gorges-de-la-Riviere-Malbaie national park, the trail of flavours and The-Baie-Saint-Paul village.
Located next to Fairmont Le Manoir Richelieu is the Casino de Charlevoix, offering guests the opportunity to test their luck and experience the vibrant nightlife that is waiting right outside our doors. For a perfect afternoon escape, unwind at the Spa du Manoir and treat yourself to one of our signature treatments, complete with a dip in the Jacuzzi or the indoor pool. 
This elegant 1929 chateau resort perched above the St. Lawrence River has something to offer, regardless of what you're looking for -- we look forward to hosting you soon!